Bio
• 2016 starting with quiltmaking
• 2016 Bachelor of Clothing Technology/ Product Development
• 2011-2016 studied at Niederrhein University of Applied Sciences in Mönchengladbach/ Germany
• 2008-2010 Training to become a technical assistant for garments

Artist statement
---
After I had learned a lot of clothing industry during my apprenticeship, subsequent studies and various work placement I noted that I have much more pleasure cutting all imaginable textile materials and putting them in a new unexpected context.
For me, the patchwork quilt is the ideal medium for merging colour, material and pattern into a complex visual mesh, thereby emphasising and preserving the beauty of this material. In order to preserve the current zeitgeist, I mainly use old clothes for my work. My attention is drawn at the visible traces of use such as patches, scrapes and holes, because they tell stories from the past life of the textiles and their wearers.
Knowing how much energy and work has to be used for the production of clothing, sustainable resource-saving use of textiles is particularly important to me. 
---
Nachdem ich in meiner Ausbildung, dem anschließendem Studium und verschiedenen Praktika alles Wesentliche in der Bekleidungsindustrie gelernt hatte, stellte ich fest, dass es mir sehr viel mehr Freude bereitet, Textilien zu zerschneiden und in einen neuen unerwarteten Kontext zu setzen.
Um den aktuellen Zeitgeist zu konservieren, verwende ich für meine Arbeiten ausschließlich Altkleider. Zudem ziehen gerade die sichtbaren Gebrauchsspuren wie Flicken, Abschabungen und Löcher meine Aufmerksamkeit auf sich, da sie Geschichten aus dem Vorleben der Textilien sowie deren TrägerInnen erzählen. 
Des weiteren weiß ich, wie viel Energie und Arbeit in der Herstellung von Bekleidung steckt und deshalb ist mir ein nachhaltiger ressourcenschonender Umgang mit Textilien besonders wichtig.
---
Offene Ateliers 2021
Franz-Flemming Str.15
3.10.2021/ 14.00-19.00 Uhr 
Nacht der Kunst
Kunsttanker
04.09.2021/ 16.00-24.00 Uhr
Leipzig/ Germany
FRANZ- FLEMMING 
Pop-Up-Gallery
02./03.11.2019
Leipzig/ Germany
R.U.A. | Re Use Art
Scraps, objects, ecology of Contemporary Art
Groupshow
Inarte Werkkunst Gallery
20.09- 25.10.2019
Bergamo/ Italy
10. Rheydter Kunsttage
Groupshow
07.09- 09.09.2018
Mönchengladbach/ Germany
---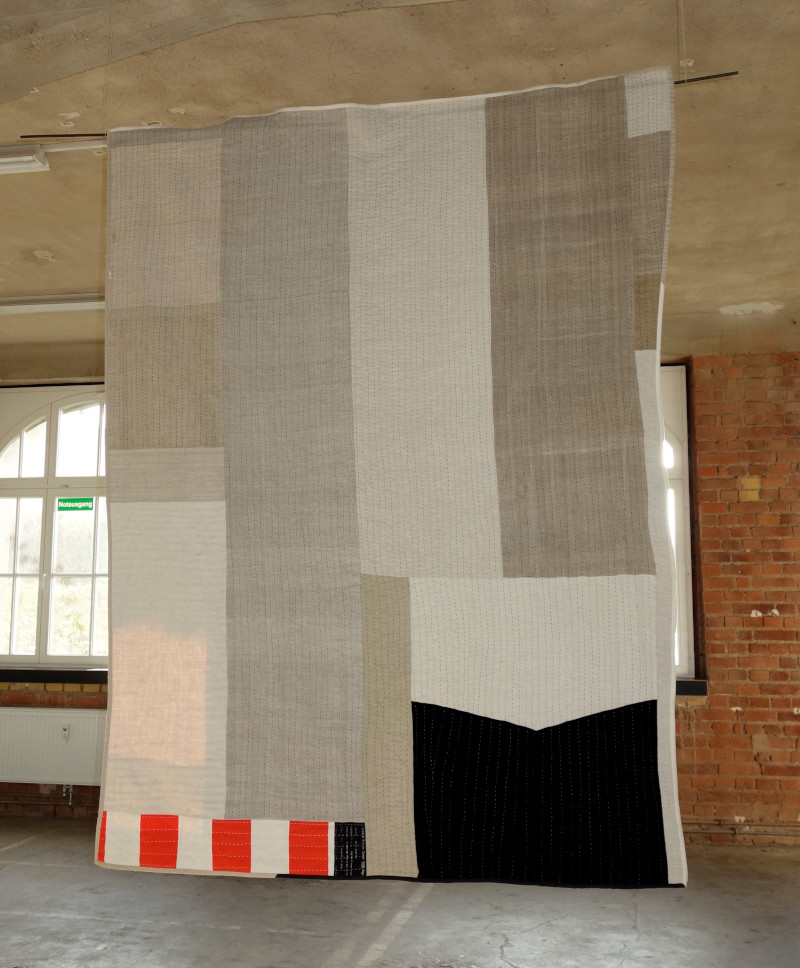 ---